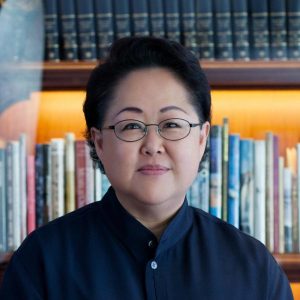 Ada Wong, JP
Vice-Chairperson, Hong Kong Social Entrepreneurship Forum
Founder and Chairperson, Make A Difference Institute
Executive Chair,

Good Lab Foundation
Ms Ada Wong, has led a varied career as solicitor, educator, social innovator and civil society figure. She is a staunch advocate of creative education, cultural development and social innovation.
She founded the Hong Kong Institute of Contemporary Culture (HKICC), a unique non-profit cultural organization whose mission is education innovation and a creative civil society. Among other projects, HKICC founded the HKICC Lee Shau Kee School of Creativity in 2006, a school dedicated to the nurturing of talents for Hong Kong's arts and creative industries development.
In 2010, she founded the Make A Difference (MaD) initiative (www.mad.asia), a continuing platform for the next generation of creative changemakers in Asia. Two years later, she founded The Good Lab (www.goodlab.hk), a do tank and social innovation hub to enable tri-sector collaborations in bringing about innovative solutions for a better Hong Kong.
Since 2017, as a director of Ednovators, an organization dedicated to education innovation, she designed and co-led its Innopower teacher fellowship programme to nurture the innovative capacity of teachers so that they can respond to students needs and experiment innovative ideas.
She was an elected member of the Urban Council and Wan Chai District Council between 1995 and 2008 with the last four years as Chairperson of the Wan Chai District Council. She received her BA (Hons) from Pomona College, California USA, and M Ed from the University of Hong Kong. She is an Honorary Fellow of Lingnan University, Hong Kong Education University and the Hong Kong Baptist University.
黃英琦, 太平紳士
社會創業論壇副主席
創不同協作創辦人及主席
好單位執行主席
黃英琦太平紳士身兼數職,除了是執業律師,也是創意教育推動者、文化倡議者及社會創新者。
本著教育創新和創意公民社會的理念,她在1998年創辦了香港當代文化中心及在2006年創立香港兆基創意書院,為香港首所推動創意教育,培育香港新一代文化創意產業人才的高中學校。
她在2010年創辦Make A Difference創不同(www.mad.asia),鼓勵亞洲青年推動社會正面改變。在2012年,她更開設好單位 (www.goodlab.hk),一個行動型智庫、共享空間及推動社會創新的平台,致力推動社會創新及跨界合作。
自2017年,作為教育燃新董事,她策劃了為本地老師培力的「創新教師夥伴計劃」,讓老師能回應學生需要,孕育及實踐創新點子。
在1995-2008年期間,她曾任民選市政局議員、灣仔區議員及灣仔區議會主席。 她是美國加州波莫納學院榮譽文學士、香港大學教育碩士,嶺南大學、香港教育大學及浸會大學榮譽院士。